Hechizo VG (Joyero Salvatella x Venezolana II). Breeder: Yeguada Velasco Gonzales. Born: 2010. Breed: Pura Raza Española (PRE Andalusian).
Hechizo VG is a bay purebred Spanish mare, born 2010 in Spain with exceptional movements in three gaits, and huge dressage talent. Hechizo VG started her training as a three year old mare with with a Spanish professional rider educated at one of Spain's leading dressage academies. Once our team of dressage professionals determined she was ready to enter the FEI young horses classes and with a good probability of success, we took her out of training to start her life as a PRE Andalusian brood mare. 
Hechizo VG is a niece of the international Grand Prix star 
Joyero VG
. She is a sister of CavalReal brood mare 
Hiedra VG
 and the talented dressage PRE 
Kharma VG
.
Breed: Pura Raza Española (PRE). Approved for PRE breeding. No piro. Registered in the LG-ANCCE breed registry: Yes.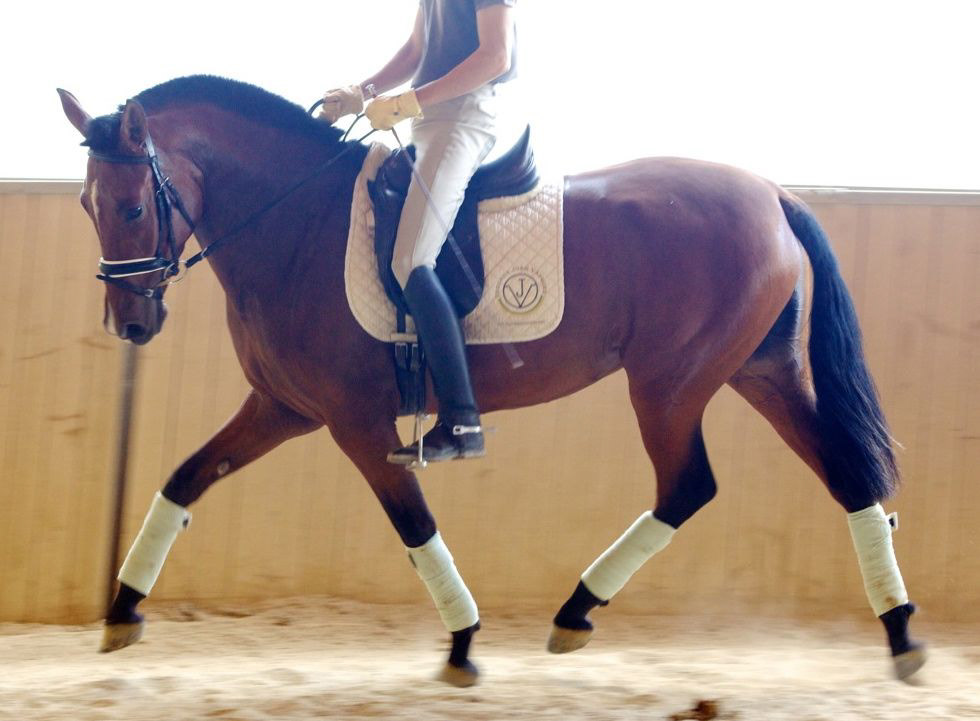 Offspring
Alcázar Real (
Fer Bulería
x Hechizo VG), Yeguada CavalReal 2014
Bolero Real (
Fer Bulería
x Hechizo VG), Yeguada CavalReal 2015
Calypso Real (
Fer Bulería
x Hechizo VG), Yeguada CavalReal 2016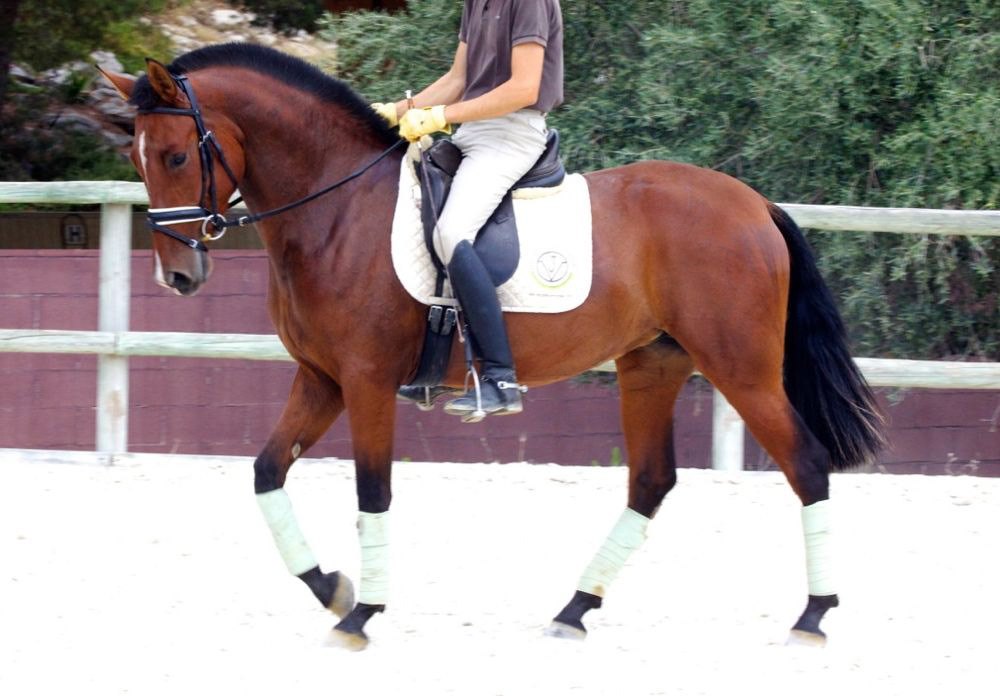 Origins
On the father side, Hechizo VG is a daughter of
Joyero Salvatella
, grand daughter of
Corinto X
and great grand daughter of the outstanding Guardiola stallion
Educado X,
a son of
Centella V
. 
The Guardiola stallion
Centella V
was Champion of Spain 1984 and is a key to some of the best Spanish dressage bloodlines. This amazing horse is the father of many excellent horses, like the outstanding Guardiola stallion Educado X.
Educado X
is four times the winner of SICAB gold medals, and himself father of many of Spain's multichampion horses. Hiedra's grand father
Corinto X
is a good example of a son of Educado X. An excellent stallion who has himself never been brought to competitions by his owners, but who has many beautiful, powerful and athletic offspring. 
The full brothers 
Joyero Salvatella
(Hiedra's father) and
Joyero VG
(Hiedra's uncle), sons of
Corintho X
and grandsons of
Educado X
, are two excellent examples of the genetic power of the Centella V line. Joyero Salvatella gives excellent dressage offspring with fantastic movements. His famous full brother, the international Grad Prix-star Joyero VG is 2 x Spanish Reserve Champion of Dressage, and is competing successfully on the international FEI dressage arenas.