We Breed Strong, Talented and Functional Purebred Spanish Horses (PRE) for International Dressage Riders
Our dressage PRE are strong, talented and functional horses of good size (16.1 - 16.3 hh / 165 - 170 cm) suitable for international dressage riders who love to compete, or training at home. Apart from three good gaits, we like to see our horses with excellent manners much like a Spanish gentleman or noble lady, as well as a calm and balanced temperament with great discipline and much energy under saddle. 
The great Spanish horses of the past, so beloved of the European nobility of the 16th and 17th century, were not afraid to participate in war or face a raging bull, never abandoning his rider but rather willing to look death straight in the eye without any fear at all. 
We strive for horses that are easy to ride and easy to handle, while not losing any of the charisma, fire and expression that is so typical of the noble purebred Spanish horse.

Preferring quality to quantity, we breed with champion PRE lines, strive for security, safety and kind handling of all horses since birth, and work with top professionals in each field. This ultimately results in horses suitable for discerning dressage riders and PRE lovers worldwide. 
Please let us know if you are looking for a good-quality dressage PRE. As we might not always have the time to update this site, what we have available might not be presented anywhere online. 
Use the form at the bottom of this page!
​​​​​​​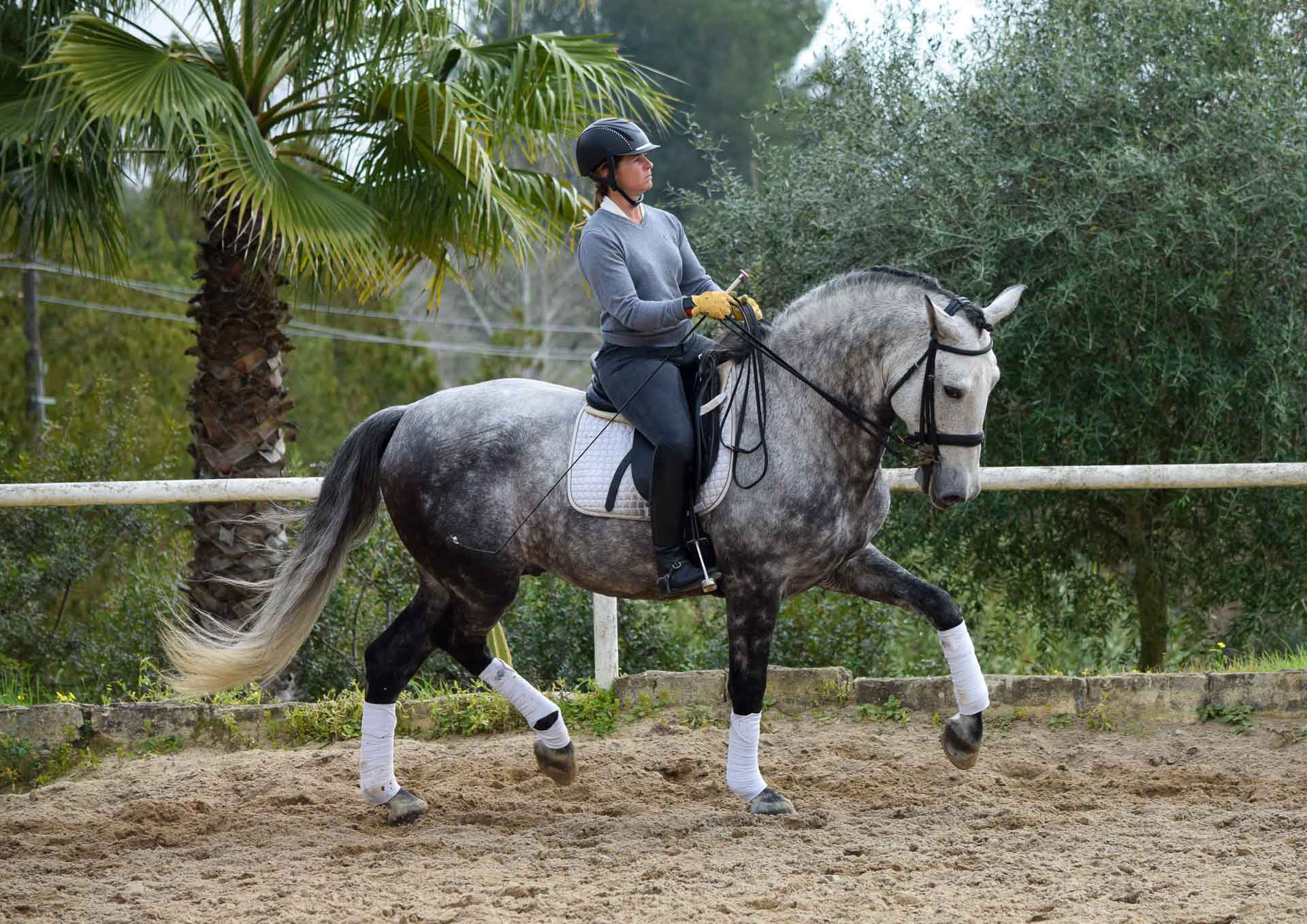 Something About the Purebred Spanish Horse
– The official breed name is
Pura Raza Española
(PRE) 
– The breed is also known as
 Andalusian horse
 (*)
When we started our project in 2012, there were not many good quality PRE dressage horses available, and there were problems with things such as strength, stamina, temperament and movements that are required of modern sport horses.
To start our PRE breeding project, we selected a world class stallion and a number of sound, tall and healthy PRE mares with good movements in all three gaits.
The CavalReal foundation stallion is 
Fer Bulería
, one of the formidable Ferrero horses. We selected him not only for his impressive functionality and impactful presence in the arena, but also for his nobility, generosity and great kindness. He transmits a very special and unique feeling of connection and union to his rider, and we wanted to create a line of horses based on these characteristics.
(*) The only horses considered to be purebred Spanish horses (Pura Raza Española, PRE) are the ones registered in the official Purebred Spanish Horse (PRE) Stud Book. This is the only PRE Stud Book that is officially recognised by the Government of Spain and its Ministry of Agriculture (MAPA), and includes the total register of PRE horses worldwide. Meaning, that no matter what anyone tells you, if the horse is
not
registered in this particular register, it can never be considered a PRE / Pura Raza Española | purebred Spanish horse. 
​​​​​​​
For enquiries, please use the form below.